Project Assessments

Below is an account of an actual project assessment.
The total effort required in this case was 1.75 hours on site and 3 hours in office, 4.75 hours in total.
~~~~~~~~~~~~~~~~~~~~~~~~~~~~~~~~~~~~~~~~~~~~~~~~~~~~~~~~~~~~~~~~
Mr. and Ms. Customer,
Thank you for having me out to assess your project – I enjoyed meeting you and your family.
I have put together a basic concept and scope of work that follows the direction we established in our consult. In addition to a written statement of work below, I've also included some rough (very) sketching and a photo - to help you visually. Please review this when you have some time and I look forward to hearing your thoughts.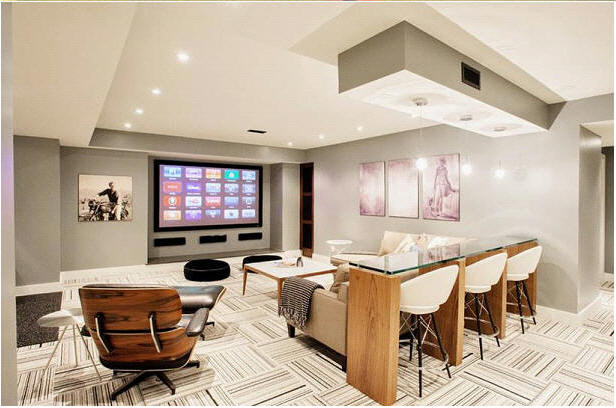 Houzz.com

This is more modern than I imagine for your space, but it contains elements of what we talked about. I also like the brightness of the space.
Other stuff to think about related to this photo and your space:
To brighten the space - in addition to a smart color choice - I propose that we change out all the bulb types in your basement as well.

The type of carpet shown here is also an option for your basement as it has a mold resistant bitumen backing.

This drop ceiling/soffit over the bar is an option as well.
Item

Job Scope (Statement of Work)

1

Setup/Materials
Site setup/review and materials acquisition

2

Demolition/Prep
Carpet/Pad

3

Structural/Framing
Bath Hall and Closet
Eating Bar wall
Relocate pole

4

Electrical Rough and Finish
4-6 recess lights, 2-3 switches, 3 outlets

5

Drywall: Install and Finish
Bath Hall and Closet
Eating Bar wall
Repairs from moving pole

6

Carpentry, Interior
Baseboards and Crown: Bath Hall and Closet
Baseboards: Eating Bar wall
2 Columns Trim-outs: TBD size/configuration

7

Flooring
TBD Concrete Floor Prep
Concrete Stain (Pigment) to Vapor Barrier Underlayment and premium laminate or engineered floor

8

Cabinetry
Media: 20' TBD configuration
Wet Bar: 8' Base, TBD configuration, 2X 8' shelving
Eating Bar: 2 corbels

9

Counter Tops
Wet Bar: 8' TBD, quartz/acrylics, low pigment
Eating Bar: 9' TBD, quartz/acrylics, low pigment

10

Painting:
INTERIOR: Sherwin Williams Durations: Walls, Trim, Ceilings

11

Miscellaneous
Scope here

12

Punch-out

s1

Clean/Protect/Close-out

s2

Debris Handling

s3

Project Assessment

s4

Project Management

s6

Planning / Design/ Development:
18 hrs: back/forth collaboration to refine a full scope: space layout, disciplines, materials, resources, options discussions, pricing, selection consultation, specification, documentation
This ROM (rough order magnitude) scope leads to an estimate range of $xxx - $xxx. Including or not including the wet bar and lighting and the type of flooring are the main variables within the scope. This estimate makes assumptions about grades and selections for finishes, such as cabinetry, lighting, plumbing, tile, and paint, flooring etc. that are based on conversation during visit, your environment, and industry experience. Refinement continues once under contract.